Bruce Eaton Shares What Social Distancing Was Like Before The Pandemic
While for most folks the guidelines for dealing with the current pandemic might take a bit of getting used to (or even seem draconian), for me they're all old hat. In 2014 I was diagnosed with multiple myeloma (bone marrow cancer) and what followed was 3 1/2 years of chemo with a bone marrow transplant in the middle. With my immune system completely wiped out at one point, my very survival depended on social distancing, clean hands and surfaces, and N95 masks when in public. As a lifelong music fan, this took some adjustments. No concerts. No trips to record stores. Minimal social interaction. But as I learned to pursue my love of music in this unexpected environment, I discovered some avenues of exploration that enhanced my knowledge and love of jazz with a depth that wouldn't have happened otherwise. 
So here my fellow jazz fans are some ways to keep the music rolling during this challenging time.
Subscribe to a streaming service
(Go ahead and skip this part if you are already a subscriber). It amazes me that I still regularly encounter jazz fans who don't subscribe to a streaming service (I've pretty much used them all and prefer Spotify but feel free to experiment to find what's right for you).  For ten dollars a month – less than the cost of a single cd or vinyl album – you have unlimited access to the equivalent of the combined stock of Tower Records and J&R Music World in New York at their peak. Spotify has a bounty of import jazz releases that likely never even saw the inside of a retail shop in Western New York. You might be familiar with the music of the Bill Charlap Trio through their excellent releases on Blue Note and Impulse, but are you aware that he had an entirely different group – the New York Trio with Jay Leonhart and Bill Stewart – that concurrently recorded a series of outstanding albums for the Japanese label Venus? Maybe not. But they're right there for your listening enjoyment. 
Another feature of streaming services is that you can download tracks onto your smart phone, iPad etc. and listen to them without having access to the internet (i.e. going for a walk, taking a drive) as long as you pay the monthly subscription fee. It's probably the greatest bargain ever for music fans. You can check out an incredible range of music and then – remembering that you don't really own the music – buy the cds that really connect with you. As an added enhancement, hook your phone / tablet up to your main stereo (a quick online search will give you all the various directions) and stream in the highest possible sound quality. Music was not meant to be listened to on tiny speakers!
Explore jazz blogs
There are a number of excellent jazz blogs that will enhance your knowledge and understanding of jazz, even if you aren't a jazz musician. Here are several to get you started:
ethaniverson.com  This is the home of Ethan Iverson's (co-founder of the Bad Plus and pianist extraordinaire) multiple award-winning blog Do The Math and his Transactional Technology subscription newsletter.   Iverson's interviews with his fellow musicians and his commentaries on a given musician's body of work are absolute must-reads. I guarantee they'll be sending you back to your music library or your streaming service to listen to music – both familiar and previously unheard – with fresh ears.  In a nutshell, I've discovered more great records (almost all of which you'd never hear on the radio – satellite or terrestrial) and learned more about jazz over the past few years from reading Ethan than from any other source. 
jazzprofiles.blogspot.com  Curated by Steven Cerra, this site is a treasure trove of interviews and commentary that stretch back over decades. Thanks to Steven's recommendation, I spent an otherwise dreary Easter Sunday afternoon listening to "Blues With a Touch of Elegance" by pianist /arranger Onzy Matthews (Capitol /1964) – an artist (he did a lot of work with Ray Charles and Lou Rawls in the 60s and, later on, with Duke Ellington) who had previously been totally off my radar.  
jazzwax.com Journalist Marc Myers (Wall Street Journal) sends out a daily email featuring an artist or recording. As with Iverson, he puts the spotlight on a lot of recordings and artists who might otherwise not be on your radar. I start every morning reading Marc's email and they're always interesting and informative. Like Iverson, his blog has been awarded Jazz Blog of the Year multiple times by the Jazz Journalists Association. Myers includes links to YouTube videos and the streaming services when appropriate to get you started on your exploration.
jazzcollector.com This blog is fun reading – unless you sold all of your original Blue Note pressings when you switched over to compact discs. Then you can read it and weep (some of the early Blue Note / Prestige / Riverside albums now go for many thousands of dollars – especially ones by Sonny Clark or Hank Mobley – who saw that coming?). Otherwise, this is a fun look at the upper echelon of jazz record collecting. And, who knows, you might discover that you've got a rarity sitting in your collection.
Brush up on your history
There are, needless to say, many great books about jazz. These books can be excellent road maps to exploring areas of jazz in great depth – whether they're covering a single artist or jazz from a specific region. Two to get you started:
Jazz From Detroit by Mark Stryker. A major work that covers the Detroit jazz scene from the 1940s up to today.  New Orleans may be the birthplace of jazz and New York may be the jazz capital of the world but by the end of this insightful book, you may well believe that Detroit has produced more jazz giants per capita than any other city.  From the Jones brothers – Elvin, Thad, and Hank – up through today's generation of stars, Jazz From Detroit will have you exploring jazz from the Motor City like never before. An essential book for any jazz aficionado.
West Coast Jazz: Modern Jazz In California, 1945-1960 by Ted Gioia. Easterners (and critics in general) often regard West Coast jazz as a lightweight version of the grittier, tougher sounds that emanated from the Northeast in general and New York City in particular.  There's a bit of truth in that – and a whole lot of falsehood. (Anyone dare to say that Hampton Hawes or Harold Land or Red Mitchell weren't total heavyweights?) Gioia's overview of the genesis and development of West Coast jazz will open your mind and introduce your ears to some uplifting California sounds.
Do a deep dive on a single artist
One way I kept myself occupied during my medical quarantine was to do a deep dive on a single artist.  The concept is simple: pick an artist and walk / listen through their career as both a leader or sideman in chronological order.  As their career developed, it's likely you'll be walking down a path over weeks that touches on a lot of different phases of jazz history.  Several of the artists I chose – Hank Jones and Sonny Stitt – recorded so frequently that it's darn near impossible to assemble a complete survey of their output. But you can come pretty close and it's really interesting to hear how they developed within the overall context of broader jazz trends.
Many of the significant jazz artists in history now have an online discography put together by scholar-fans. If not, you can do it on your own by consulting discogs.com. (Wikipedia might have some good information to begin with but odds are it won't be close to complete, especially if you're looking for session work.)
Go record shopping in your own house
If you're like me, you have a lot of albums that you haven't listened to in a while. Dig them out, dust them off, and listen to them carefully without distraction – as if you were listening for the first time.  Odds are you're going to pick up on a lot of nuances you've forgotten about (or never noticed) when the record was in heavy rotation in your house.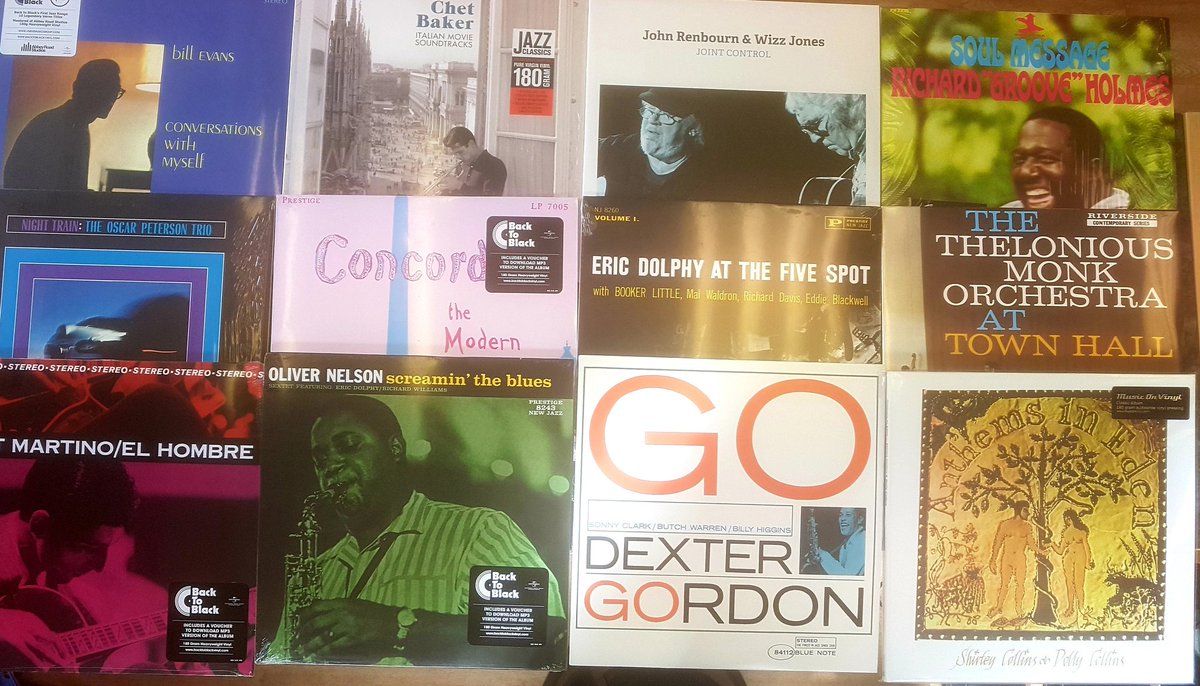 Look for alternate ways to support current artists
Okay, Amazon isn't shipping compact discs or vinyl right now. Record stores are closed.  But independent labels and many artists are still selling and shipping through their websites. Buy direct and the artist gets more profit. If an artist has a blog or a subscription service, sign up. If you're an amateur or semi-pro musician, many jazz artists offer lessons via Skype or FaceTime.  Don't be shy about your lack of chops. In this environment, a lot of artists will be more than happy to give you a lesson or two. 
If nothing else, by visiting an artist's website, it lets them know that we're still out here enjoying the music and will be here waiting when things get back to normal. Most artist sites have a way to send an email to the artist. I don't think anyone will mind getting an email letting them know how much you appreciate their artistry. The encouragement will be most appreciated.
Buy a ticket
Most of you who have attended Art of Jazz concerts have heard me say "the most radical form of supporting the arts is to buy tickets." When touring resumes, it will be critical for events to be well-attended.  At this point in history, touring revenue is way more important to artists' livelihoods than revenue from sales of recordings.
To keep the jazz scene healthy and moving ahead, we'll need to quickly rebuild the opportunities for artists to perform live. How well we do that will be almost entirely dependent on how many people step up to the box office window and buy tickets. Compared to other music genres, tickets to jazz performances are a bargain.
I hope to see everyone at a show in the not-too-distant future – the sooner the better for all. 
Bruce Eaton is a life-long fan and advocate of jazz, founder and producer of the long-running Art of Jazz Series, contributing writer for the Buffalo Spree, and a contributing author to JazzBuffalo.