(Photo: the hot new jazz-fusion band, Decent Exposure, will entertain at this week's Jazz On The Plaz!)
The jazz scene this summer is certainly spreading.  At JazzBuffalo, we are intentional about making jazz available to everyone and as a means to unite our community.  The JazzBuffalo "Summer of Jazz" is a way to offer FREE jazz performances to the community – no cover – in enjoyable outdoor settings.  We still need your support – please do help us by contributing to the JazzBuffalo Keep Jazz Alive Fund.
JazzBuffalo "Summer of Jazz"
Guitarist Stu Weissman has been a fixture in the jazz scene since his arrival to Buffalo.  One of the region's most versatile jazz guitarists makes an appearance with friends at Jazz at Chandlerville. Stu Weissman has been on the local music scene since the early 1970s and while often considered first and foremost as a jazz guitarist he is also is conversational in the blues and funk genres as well.   Originally from NY City he came to Buffalo in 1969…
JazzBuffalo is excited to partner with Seneca One Tower and Douglas Development Corporation to bring to the Buffalo community Jazz On The Plaz! this summer.  Taking place on Fridays beginning at 5:30 pm and lasting until 8 pm.  With the exception of Thursday, June 17th – this will be the only Thursday date! Location: The weekly series will be held at the West Plaza of Seneca One Tower between Pearl Street and Main Street.   The revitalization of Seneca One…
DECENT EXPOSURE is a riveting quartet of musicians who are masterfully presenting the infectious music and genre known as jazz-fusion.  Many jazz fans of the Jeff Lorber style of jazz-fusion will certainly dig the music of DECENT EXPOSURE.  Led by drummer and vocalist, Reggie Evans. For an Electrifying, Jazz / Fusion Experience, don't miss this next Jazz On The Plaz! event!  The quartet features: ~ Pat Georger – Keyboards ~ Colin Brydalski – Electric Bass ~ Paul Beringer – Guitar & Sax…
JazzBuffalo and the Terrace at Delaware Park are excited to bring back the popular JazzBrunch Sundays to the iconic location at Hoyt Lake! We will once again provide high-quality jazz music for Sunday Jazz Brunch at The Terrace's historic location at Marcy Casino. The Terrace is located on the upper level of the Delaware Park Lake casino and is located across from the Albright-Knox Art Gallery. We will be bringing the music of jazz every Sunday during the summer months…
See and hear two of our finest rising stars in the region's jazz community, Elliot Scozzaro on alto sax and Jared Tinkham on guitar.  Enjoy an award-winning brunch menu from the Terrace at Delaware Park as you celebrate summer at this iconic cultural location.  Call 716-886-0089 for reservations. Elliot Scozzaro Elliot Scozzaro is a saxophonist and educator from Buffalo, NY. As a student, Elliot was a member of the Eastman Youth Jazz Orchestra and received an Outstanding Soloist Award at…
The popular Summer JazzMondays on the rooftop patio of Tappo Restaurant returns for the summer of 2021 for its fourth season!  We're bringing back My Cousin Tone' to perform on the rooftop patio every Monday night!  Voted in the JazzBuffalo annual poll as favorite Jazz Large Ensemble! Sit back and enjoy dinner and a bottle of wine while My Cousin Toné plays tunes everyone will love from its repertoire of jazz classics, standards, soul, and hard bop songs.    …
POSTPONED FOR TUESDAY, JUNE 22 DUE TO COOL WEATHER – WE'LL BE BACK JUNE 29. Join JazzBuffalo and the Mansion on Delaware every Tuesday this summer for music on the patio.  This an opportunity for both jazz musicians and jazz fans to enjoy duos or trios on a weekly basis at one of Buffalo's historic locations and establishments. We begin Tuesday, June 8, and will go into September as long as we can.  Since this is outdoors, it will be…
The traditional jazz trio version of the Skiffle Minstrels will be playing jazz standards at the Mansion.  Joining in as special guest is trumpeter extraordinaire and winner of the JazzBuffalo Poll for favorite jazz trumpeter is Tim Clarke.  A special evening in a special setting!
The JazzBuffalo Keep Jazz Alive Fund
As we were last summer, we will be reliant on in-kind donations to help support jazz music this summer into fall.  So far, we have jazz music available 4-5 days of the week and possibly more.  You can make in-kind suggested donations of $5-$10 per event attended to:
Venmo: @jazzbuffalo716
PayPal: @jazzbuffalo
Patreon: https://www.patreon.com/JazzBuffalo
At JazzTuesdays at The Mansion on Delaware Avenue and Jazz On The Plaz! at Seneca One we will also have a bucket for cash donations.
Check Upcoming Events At JazzBuffalo For Live Jazz/Live Streams
Be sure to check out the Upcoming Events section of JazzBuffalo.org for all the live jazz around town.  Both outdoors and indoors.  We are more dependent now on musicians and venues submitting their events to JazzBuffalo to appear on the calendar.  So, tell your favorite bands and venues to visit JazzBuffalo.org and submit their events!   Also, because seating is very limited for live events, tickets can go quickly.  Go here for more events:
JazzBuffalo Stories You May Have Missed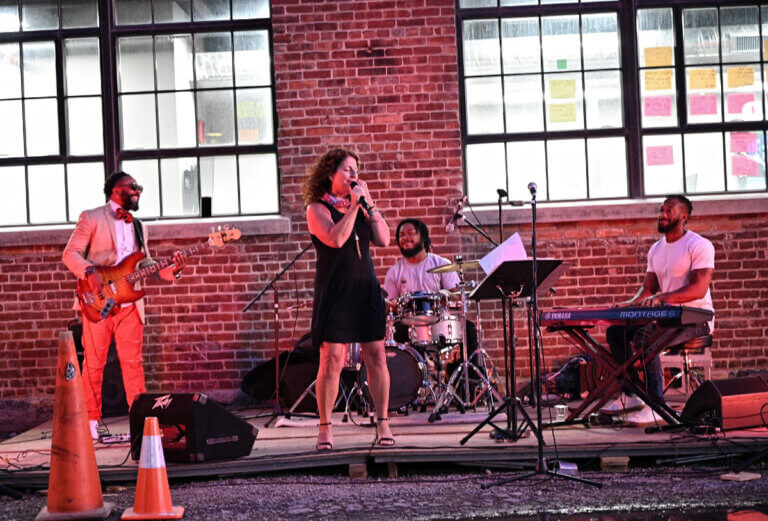 ARTS & MUSIC
person playing a bass viola for jazz in buffalo

At their recent annual Membership renewal event, the Pappy Martin Legacy Masten Jazz Festival announced plans to go ahead with its 2021 jazz festival.  The decision is based on the high vaccination rate, loosening of restriction, and the lowering of the COVID-19 positivity rate.  Dawn Berry-Walker, President of the Pappy Martin Jazz Collective, also announced […]
Become A JazzBuffalo Patron