(On April 8th, as part of the Art of Jazz at the Philharmonic Series, Buffalo gets a special visit from two masterful jazz artists. Ethan Iverson and Tom Harrell. In this exclusive JazzBuffalo article, series producer Bruce Eaton interviews Ethan Iverson ahead of his upcoming concert.)
BE: It was many years and millions of miles ago for you but one of the most landmark concerts in the Art of Jazz Series was The Bad Plus at the Albright-Knox in 2004 – which if I recall correctly was the first date on the band's first major tour or darn close to it. You've had a pretty unique career arc since then which many jazz fans are familiar with – making your initial mark as a co-leader in a successful group with a very distinct sound and then moving on to focus on working with some of the great living masters like Billy Hart, Ron Carter, and Tootie Heath. That's sort of the opposite of the path many musicians follow.  After doing your "own thing" for so long, what really struck you when you jumped into working with the older masters of the art of jazz? 
EI: Thanks, Bruce! I remember that Albright-Knox gig like it was yesterday! Most of the artists I admire have one foot in the past as well as one in the future. In fact, a lot of what seemed "new" in the Bad Plus was just fresh ways of doing old things, for I first got into jazz through Scott Joplin and boogie-woogie and I still love the whole continuum. Having planted the flag, so to speak, of modernity — if not even punk rock — with the Bad Plus, I then wanted to strike a balance with more traditional knowledge. The first time I played with Billy Hart, I knew instantly that he had what I needed to grow, and I've kept trying to learn from him ever since. Billy recommended Tootie, and of course, Ron has always been my favorite bassist. When working with people like Billy, Tootie, and Ron, I learn something that no amount of private listening and solo practice can give me.
BE: Common Practice [ECM / 2019. Recorded live at the Village Vanguard with Tom Harrell] was certainly one of the stellar pre-pandemic releases. It resonated with me and many other listeners for the depth of emotion and beauty that you pulled out of songs that we've all heard many times. I had to hit the "repeat" button on my cd player three or four times before I could get past Tom's opening to "The Man I Love". What a beautiful opener! What is it about Tom's playing that makes it so special?
EI: Tom feels very deeply, yet he lets only a small amount of that feeling rise to the obvious surface. That very act of restraint is compelling. It's very vulnerable. I have seen people cry when Tom Harrell plays a ballad.
BE: For those not familiar with the term, how do you define "common practice"?
EI: It's the basic stuff of an artistic discipline. In this case, we are playing standards and blues at the Village Vanguard, something which has been happening at the Vanguard almost nightly for — what — 60 years? 70? In the end, everyone on the album, including bassist Ben Street and drummer Eric McPherson, knows some of the same repertoire and even some of the same records. Everyone plays in a strikingly individualistic fashion, but the meeting point is "common practice."
BE: There was once a fairly significant number of established leaders whose bands served as de facto apprenticeships for younger musicians. Tom Harrell played for long periods with Horace Silver and Phil Woods among others. People might immediately think of Art Blakey and the Jazz Messengers and the like but looking back on the older artists I booked in the 1990s and even more recently, their ensembles almost universally featured younger musicians, many of who are now wise veterans themselves. Has jazz lost something valuable with those apprenticeships dwindling or is that firsthand knowledge and perspective being passed along in different ways today?
EI: The internet has created many problems but it has also opened doors. It is much easier to learn about the tradition than before. If you go to YouTube, middleweight yet truly wonderful artists like Hank Mobley or Hampton Hawes aren't forgotten, they have millions of listens! Some of the younger players (Sullivan Fortner and Nicole Glover come to mind) seem to know a sizable breadth of the history in a way that just wasn't true a few decades ago. So that's all to the good. I didn't come up in the jazz apprentice system myself, I frankly wasn't good enough to be hired by a Betty Carter or a Jackie McLean when I arrived in New York in 1991. However, I did work extensively with choreographer Mark Morris, a true giant in his field, and then when I met Billy Hart I carried his bag whenever he let me. These days I've concluded that masters are underrated: If you are lucky enough to sit next to a master, they put it all in perspective.
BE: I know that you and Tom have rehearsed together specifically for this concert. Without revealing any songs, what can listeners expect?
EI: Nobody has been gigging that much yet, but Tom invited me to his house last week and his chops were up. Tom has been writing a ton of music. In fact, I just handed in liner notes to his next record, Oak Tree, a great quartet date of all-original music for High Note with Luis Perdomo, Ugonna Okegwo, and Adam Cruz. For the duo concert, we will play standards — probably some of those that are on Common Practice — and maybe a couple of Tom's latest pieces.
BE: Your recently released album for Blue Note has been well-received and seems to mark the beginning of a new phase for you. What projects lie ahead?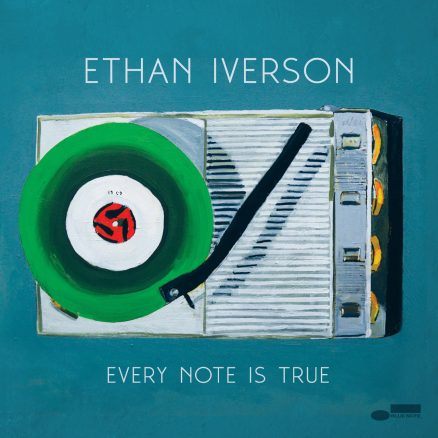 EI: It was a pleasure to write music for Larry Grenadier and Jack DeJohnette, and, yes, the reviews have been very kind. I will not tour with Larry and Jack, but Larry and Nasheet Waits are doing a few gigs with me in the future. I've also been enjoying playing sets with local rhythm sections. This is also the tradition: the first time I saw Kenny Barron and Cedar Walton they were with locals. What is not so visible yet in the world on record is larger formal composition. But I've been doing quite a lot of long-form writing, and expect to produce symphonies for jazz ensemble before too long. I'm serious!
BE: We all hope that somewhere in the future you have time to write the book that followers of your blog [the multiple award-winning Do The Math] have been waiting for. In the meantime, we're eagerly awaiting your upcoming concert at Kleinhans. Thank you, Ethan.
EI: Thanks, Bruce, and looking forward to seeing you soon!
(Tickets are available for the concert on Friday, April 8th at 8 pm at the Kleinhans Music Hall Box Office and at this link: https://kleinhansbuffalo.org/event/ethan-iverson-tom-harrell-duo/)