True Blue Jazz Fest
Friday, October 16, 2020 @ 6:00 pm

-

11:00 pm
TRUE BLUE JAZZ is focused on "Straight Ahead" or "Mainstream" Jazz, largely featuring songs of the Great American Standards Songbook from 1900 to present day. From the birth of the Blues and Dixieland Jazz to the popular tunes that became the soundtrack of America, TBJAZZ features innovative interpretation and musical improvisation of these songs arising from American stage plays, radio, television, recording artists and feature films from across this time period.
The 8th Annual True Blue Jazz Festival returns to Downtown Rehoboth Beach Delaware….& you don't want to miss a single show! From October 15th – 18th…to catch the best Live & Streaming Live Straight Ahead Jazz Acts…True Blue Jazz is THE only place to catch the best LIVE Straight Ahead Jazz Acts in Rehoboth Beach, Delaware! We've got'em!!!
From Local & Regional Jazz Musicians with legendary talent….to National & Internationally recognized Jazz Artists, Masters & Icons….True Blue Jazz delivers the real deal, in the best Jazz Show Venues in the area. That includes our usual Showroom at The Boardwalk Plaza Hotel on Olive Avenue in Downtown Rehoboth Beach. Join us there for their True Blue Jazz Festival Streaming Live 'Watch Party' on Friday Oct. 16th & Saturday Oct. 17th!!!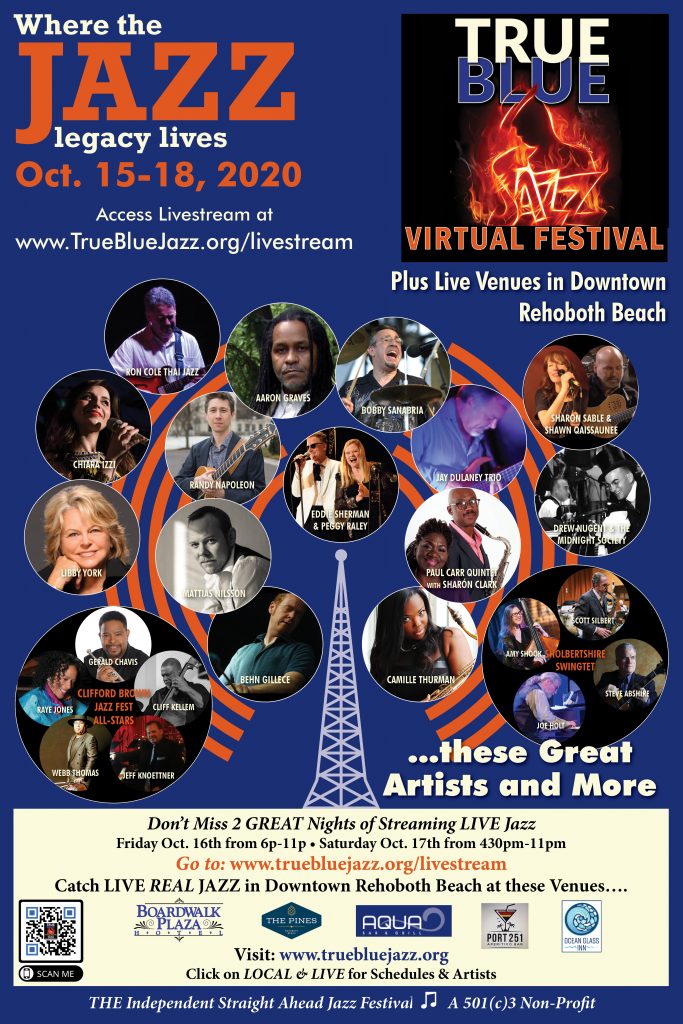 Friday October 16th
6pm • Junior & Princess Lee
620pm • Behn Gillece Trio
720pm • Libby York with pianist, John DiMartino
815pm • Camille Thurman with the Darrell Green Trio
850pm • Pianist, Mattias Nillson (Sweden)
905pm • The Paul Carr Quintet with Vocalist, Sharón Clark
10pm • Guitarist Randy Napoleon
1015pm • Joe Baione Trio
Saturday October 17th
430pm • Jay Dulaney Trio
530pm • Vocalist, Chiara Izzi with (Italy) pianist, Hyuna Park
545pm • Peabody Conservatory Student Trio • Cape Henlopen HS Jazz Combo
6pm • Clifford Brown Jazz Festival All Stars
655pm • Ron Cole's PHEE BAA Band (Thailand)
740pm • Peggy Raley with Aaron Graves Quartet featuring Bruce Williams, Alto Sax
835pm • Bobby Sanabria & the Multiverse Big Band Haiku for Kevin Bryan
848pm • Shawn Qaissuanee & Vocalist, Sharon Sable
943pm • The Sholbertshire Swinget Salute to Stan Getz & Oscar Peterson
1035pm • Drew Nugent & The Midnight Society
1055pm • 2020's True Blue Jazz Virtual Festival says "Good Night & Thanks to All the Jazz Fans & Viewers around the World!"