Chandler Street JazzFest on Labor Day!
Monday, September 2, 2019 @ 2:00 pm

-

7:30 pm

Free
Join JazzBuffalo and the Chandler Street establishments of Thin Man Brewery / Tappo Pizza for the first-ever Chandler Street JazzFest.  To be held on Labor Day – Monday, September 2nd.  The JazzFest will feature 4 performances on a closed-off portion of Chandler Street in front of Thin Man Brewery.  Food and drinks will be available throughout the day at Thin Man Brewery / Tappo Pizza and at the venues in the courtyard across the street.
Scheduled to perform for the Labor Day Chandler Street JazzFest are:
2:00 pm – Carolyn Lansom and Dozo My Lady
3:30 pm – Carina and the Six String Preacher
5:00 pm – Ron Davis Combo Featuring Susan Kincaid
6:30 pm – Wendell Rivera Latin Jazz Ensemble
2:00 pm
Carolyn Lansom and Dozo My Lady
Dozo My Lady is an exciting trio performing an eclectic mix of music focusing on jazz but equally proficient in pop, rock and barroom standards.  This Buffalo New York trio was formed by Carolyn Lansom (vocals, percussion) and Dave Lansom (upright bass, vocals) in 2010 while they were living in Japan. With the addition of Greg Amato (guitar, vocals, melodica) in 2013, the group evolved into a consistently engaging, versatile act that is pleasing audiences across Western New York.
Carolyn's impressive multifaceted vocals are perfectly supported by Greg's jazz, gypsy, and rock stylings. Holding down the low-end Dave's solid bass technique rounds out the mix.
From intimate venues such as The Terrace at Delaware Park to jazz festivals and large events, this dynamic trio presents a captivating and well-rehearsed performance. A Dozo My Lady show will feature selections made famous by Ella Fitzgerald, Duke Ellington, Frank Sinatra, Van Morrison, The Beatles, The Temptations, Buck Owens, and Norah Jones just to name a few.
Carolyn has also been a featured guest with the My Cousin Toné jazz ensemble, especially during the summer JazzMondays at the Tappo Restaurant Rooftop Patio.  Which has produced many memorable performance moments!
3:30 pm
Carina and the Six String Preacher
Based out of Buffalo, the band – formed by singer/songwriter Carina M. and guitarist/songwriter Vincent James Mastrantonio – has independently recorded, created, and produced original music videos and albums. The act just released a third EP, "The Great Hideaway."
Carina and the Six String Preacher has performed at some of the most renowned venues and festivals in the region. Following the release of their debut LP, "Liquid Think," in 2013, the band was featured at the Historic Lewiston Jazz Festival. While recording their second album "Why You So Wild, Crocodile?", the duo began making music videos, mostly homemade, for the new songs off their forthcoming EP. Their videos have garnered thousands of views and followers from around the world.
5:00 pm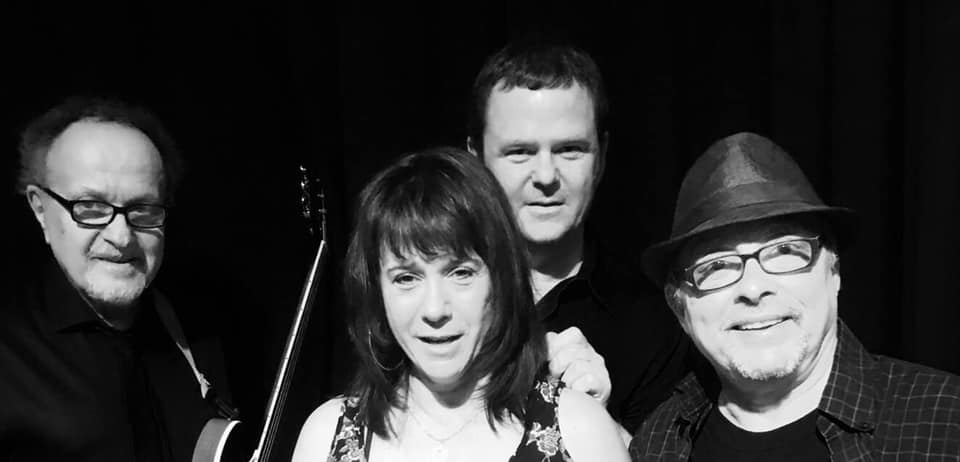 Ron Davis Combo Featuring Susan Kincaid
The Ron Davis Combo with vocalist Sue Kincaid plays a funky mix of soul jazz-flavored tunes that span a wide range of styles including classic standards, slinky blues, and contemporary originals. Featuring Doug Morgano on guitar, David Wasik on drums and Davis on keyboards/key bass, they have been appearing around Western New York venues for the last fifteen years, currently including a long-standing residence at Sportsmen's Tavern in Buffalo.
6:30 pm
Wendell Rivera Latin Jazz Ensemble
Wendell Rivera, a leading ambassador of Latin Jazz, an invigorating sound that incorporates Afro-Caribbean grooves with the free, melodic, and harmonic elements of progressive jazz. Rivera's Latin Jazz Ensemble has been the cornerstone of Latin music in the Western New York/Niagara Falls region for more than two decades.
As a percussionist, he has performed with artists as diverse as Aretha Franklin, Arthuro Sandoval, Ben Vereen, Dave Valentin, Bob Mintzer, John Patitucci, Ralph Irizarry, Yomo Toro, Tito Gomez, Oscar Hernandez, and Humberto Ramirez.
In the year 2000, Rivera was inducted into the Buffalo Music Hall of Fame, an award that recognized his achievements and musical contributions to the Western New York area.
Wendell Rivera will be joined by an ensemble of top musicians.  Featured are Randy Stirzinger-piano, Benjamin Levitt-Bass, Hansel Herrera-Trumpet, Calvin Rice-Trumpet, Joey Gonzalez-Drums, Pete Santiago-vocals, and Wendell Rivera-Congas.
Related Events