CMC International JazzFest October 11-13
Sunday, October 13, 2019 @ 2:30 pm

-

11:00 pm

$37.50 – $150
The CMC JazzFest this years moves to a weekend in October.  A line up featuring Cyrille Aimee is planned.
OCTOBER 11, 2019
Friday, October 11th, 2019
VENUE: Historic Colored Musicians Club
"CMC Jazz Opening VIP Mixer"
CMC Festival Kick-off Cocktail Hour
6:00pm- 7:30pm
SHOW
Friday, October 11th, 2019
8:0
0pm- George Spanos Trio
VENUE: Historic Colored Musicians Club
Series: CMC Living Legends
George Spanos (b. 1979), originally from Greece, is an internationally acclaimed drummer and composer who is based in New York. He started taking piano lessons at the age of eight, continuing at the age of fourteen with his studies of modern drums and percussion. Spanos' recent highlights include his performances with John Zorn, Ikue Mori, Marc Ribot, Leo Genovese, Daniel Carter, Juini Booth, Lawrence Clark, On ka'a Davis, Sylvie Courvoisier, Erik Friedlander, Steve Swell, Miles Griffith, The Downtown Avengers, Unanimity Quintet and many other incredible artists
Juini Booth performs with the George Spanos Trio, featuring drummer/Bandleader Spanos and pianist Leo Genovese.
Arthur Juini Booth, the legendary bassist/composer, lives and works in New York City, and has been playing professionally since 16. Firmly rooted in the forefront of the American jazz tradition, which he has helped to shape, Booth , has performed and toured for over 30 years with jazz musicians from Art Blakey and the Jazz Messengers to Tony Williams Lifetime to Coleman Hawkins to Albert Ayler to Chuck Mangione to Sun Ra to McCoy Tyner.
Juini tours extensively in Western and Eastern Europe, performing solo bass concerts in the U.S., Canada, and Japan. Some career highlights have been a concert with Randy Weston at the Tangiers Jazz Festival, Morocco; and with Sun Ra Arkestra in Tiblisi, Georgia (USSR) a film of painter Larry Rivers entitled "Round Trip."
He received the Mingus-Zimmerman Award sponsored by ISB (International Society of Bassists) for Most Imaginative Performance in the Free Choice Category Music Curator at Hallwalls in Buffalo New York (1981-82) and at NAC Niagara Arts Council in St. Catherine's, Ontario (1991). His compositional work has been supported by an NEA composers' grant, CAPS, and Meet the Composer.
Recording credits include: Shelley Mann, McCoy Tyner (3 albums), Freddie Hubbard, Elvin Jones, Sun Ra, Hamiet Bluiett, and many other artists.
SATURDAY, OCTOBER 12, 2019
HAPPY HOUR
Saturday, October 12th, 2019
5:00pm- PRE-yvolation: Tommyrotter  Happy Hour
Official Drink Sponsor
Pouring signature drinks!​
SHOW
Saturday, October 12th, 2019
6:0
0pm- "Reyvolation: Exploring Outer Play-ces"
ReyVolation Dectet
VENUE: Burchfield Penney Art Center
10 Musicians re-imagine the works of Reynold Scott; Avant-Garde woodwind artist, educator, and member of Sun Ra Arkestra
Series: CMC Tribute Series
"Reyvolation: An homage to Rey Scott" Performer, Sun-Ra Arkestra member, composer, musical innovator, and professor of African- American Music. (March 22, 1944 – June 23, 2018)
A gathering of ten musical souls, engendered to paying homage to the ancestral sounds of the great Rey Scott will reimagine Scott's sound explorations over the course of his career. The ensemble will revisit Scott's ever-evolving style, delving deep within themselves to seamlessly reconnect jazz to its roots, while consciously and simultaneously working to uproot it. This adventurous collaboration with the Burchfield-Penney Art Center will incorporate small group, full ensemble and "call and response" formats, in the spirit of the famed musician, professor, and historian.
ReyVolation- the Ensemble
Sabu Adeyola- Double Bass
Steve Baczkowski- Saxophone & Other Instruments
Brent Birckhead- Saxophone & Woodwinds
Walter Kemp 3-Piano/ Melodica/Keys
Curtis Lovell- Vocals
Greg Millar- Guitar
RiShon Odel- Bass/ Electric Bass/ Loops
Ravi Padmanabha-Tabla/Percussion
Abdul Rahman Qadir- Drums
Scott Tixier- Violin​
SHOW/

LOUNGE SET
Saturday, October 12th, 2019
8:0
0pm- Naryan & Teaspoon "Sitar, Beats, & Drums"
VENUE: Hotel Henry Urban Resort & Conference Center
Series: CMC Trap Door Series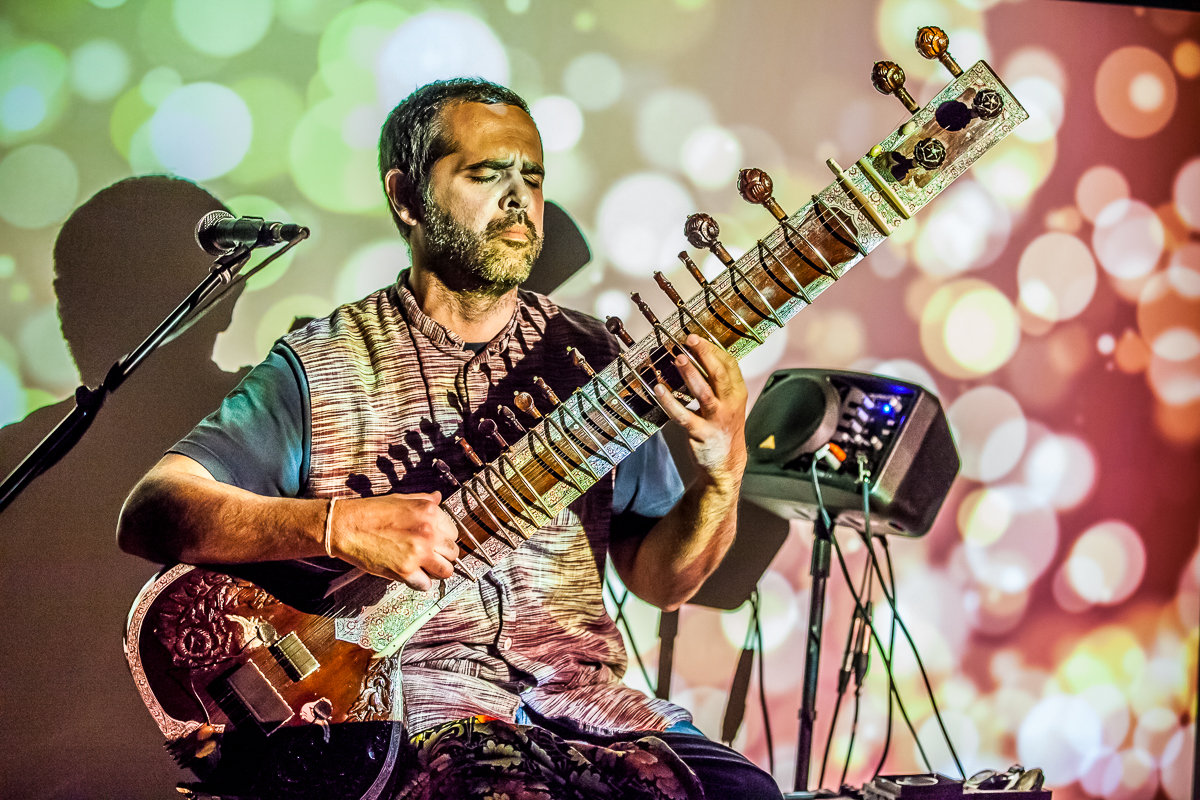 With a musical career spanning 25 years and almost 15 albums, Naryan Padmanabha is continuously refining his sound as an innovative, fusion sitar performer. He has been booked alongside with the likes of Buffalo Philharmonic, String Cheese Incident, Bernie Worrell, Jennifer Hartwick (Trey Anastasio Band), Chuck Morris (Lotus), Fareed Haque, Garaj Mahal, Rudresh Mahanthappa, Steve Kimock, Andre Manga,  Max Creek, Rob Wasserman, Toubab Krewe, The Heavy Pets, Consider the Source, Melvin Seals and JGB, and Family FUNKtion and the Sitar Jams. He has also recorded with the world-renowned North Indian Classical vocalists V.J. Kichlu and South Indian percussionist T.S. Nandakumar.  He is widely considered the go-to sitarist of Western New York and continues to please audiences with his ability to bust out world groove beats, chill melodies and slammin' improvised solos.
" Indian music with jazz fusion, funk, and jam, is one of the most innovative sounds that I have heard…" -Music Marauders
"An artist that needs to be in everyone's rotation." -Relix
"Tripped out!" -Village Voice
David "Teaspoon" Hulett has been playing drums since age 4, and gigging since age 8. "Teaspoon" has logged countless hours in the studio for various projects for various groups and has played for the likes of The Carnival Cruiseline, Disney, Marcus Miller, Critts Juke Joint, Gruvology, The Michael Jackson Tribute Tour 2010, The Black Eyed Peas, T.I., Kendrick Lamar, The Christopher Hopper Band, Grammy Award Nominee Eric Roberson, Siri Music Group artist Meisa, Philicia Collins of The David Letterman Show, B3 jazz organ great Lonnie Smith, Tommy Z, Bobby Jones of BET, Joseph Wooten and a long list of others with a current endorsement by Regal Tip drumsticks
Born in Buffalo, NY, he began his music career in the late 90's . He  is one of the most respected and technical drummers of his generation. His articulation and attenion to detail have given him the ability to adapt to many genres of music, from rock, pop, jazz, r&b, to country, folk, blues, and gospel. David Hulett got his start like many drummers around his hometown at church. Although the church was a major facilitator to master his skill he credits jazz and blues as his biggest influence. As a teenager, he was exposed to music greats from his own home town such as The Goo Goo Dolls, Rick James, Lucky Peterson, and B3 Hammond Legend Lonnie Smith.
Currently David tours with many bands including The Tommy Z Band whose Blues album just went #8 on Billboard Music Charts, As well as his current projects with The Walter Kemp 3oh! and their newly released long-anticipated album "Dark Continent" which has had rave reviews and is in the top 5 among national college radio stations in good company with Robert Glasper and Norah Jones.  He's currently working on a recording, touring and gigging with many, including his own "David J. & the Inner City Bedlam."
SUNDAY, OCTOBER 13, 2019
SHOW
Sunday, October 13th, 2019
2:30 pm- Brent Birckhead Quartet
VENUE: Historic Colored Musicians Club
Series: CMC NEXT Series
The Brent Birckhead Quartet have a riveting performance planned. Birckhead will join the "CURATION" series on multiple reeds, paying homage to Jazz scholar & Great, Reynold  Scott.
Saxophonist Brent Birckhead is an award-winning artist, whose aesthetic is an intersectional amalgam of traditional and popular styles. Unbound by genre, Birckhead's approach to woodwind artistry is driven by his compulsion for creative risk and deep respect for legacy. His place in the continuum of a storied lineage begins with his surname, Birckhead, and extends to his extensive musical education and work ethic as a visionary approach to life as a rising leader.
Educated at Howard University (BME, MM), Birckhead was named best blues/pop/rock soloist and outstanding instrumental jazz soloist by Downbeat Magazine as part of the annual Student Music Awards. In 2011 Brent was named "Best Alto Saxophonist" by the Washington City Paper.
The Baltimore native's talent earned him the honor of performing and touring with legendary artists including Lauryn Hill, Nas, Wale, Eric Benet, Larry Graham, George Duke and many more.
Birckhead is the professor of saxophone at Morgan State University. On February 22nd Birckhead released his self-titled debut album on Revive Music. He currently resides in New York City.​
ARTIST MASTER SERIES
Sunday, October 13th, 2019
4:00 pm- Cyrille Aimee shares the magic of her craft
VENUE: Historic CMC Jazz Museum
Series: CMC Artist Master Series
SHOW
Sunday, October 13th, 2019
Cyrille Aimée shares the magic of her craft in an intimate setting.
Improvisation is not just a technique for Cyrille Aimée, it's a way of life. That adventure began in the small town of Samois-sur-Seine in France, where the young Cyrille Aimée (Sur-real M-A) was introduced to a wealth of diverse music by her French father and Dominican mother: everything from Michael Jackson to French chanson, Flamenco to country-western. She and her sister would dance around the living room, instilling a gleeful abandon and warm groove that still shine through her music to this day. 
7:30 pm- Cyrille Aimee Quartet
VENUE: Historic Colored Musicians Club
Series: CMC Jazz Innovation Series
The acclaimed vocalist ventured from singing on street corners in Europe to dazzling audiences at the world's most prestigious jazz festivals; from sneaking out to sing in gypsy encampments in her native France to acting on Broadway; from braving the notoriously tough audiences at New York's Apollo Theatre to being called a "rising star in the galaxy of jazz singers" by the New York Times. Among countless accolades, Aimée won the Montreux Jazz Festival Vocal Competition and the Sarah Vaughan International Jazz Vocal Competition.
Her most recent album, LIVE, is the closing chapter of her years of touring with her innovative two-guitar line-up. As an actress, Aimée co-starred with Bernadette Peters in a Stephen Sondheim tribute at New York's City Center. This has inspired her into digging deeper in the Sondheim repertoire for her next project. She's shared her story via masterclasses, a TEDx talk, and an address at the Conference on World Affairs.
HISTORIC TRIBUTE JAM
Sunday, October 13th, 2019
9:30 pm- Led by Sabu Adeyola
VENUE: Historic Colored Musicians Club
Series: CMC Tribute Series
Don't miss this Historic Tribute Jam at the Colored Musicians Club. This landmark event, led by Don Metz (Burchfield Penney, Buffalo State) and Sabu Adeyola (University at Buffalo) will further highlight Rey Scott's life and works, as so much of Scott's music has become part of the new jazz standard. Enjoy many specially-invited musical guests who have toured with, recorded with, and shared cherished space and time with Scott.
Related Events