Live From Premier Cabaret Lounge: Philippe Lemm Trio
Friday, December 4 @ 7:15 pm

-

8:45 pm

$10
The Philippe Lemm Trio is continually proving to be one of the most exciting and electrifying jazz trio's around today. Led at the helm by drummer Philippe Lemm, the group met in New York in 2011, and after one session together, realized that their undeniable chemistry was one that needed to be taken and shared with the world.
Comprised of three musicians with an exceptional command of their instruments, the group's repertoire draws heavily from re-imaginations of jazz standards in a way that both defies genre and corresponds to any modern jazz fan. The group uses their trust and understanding of one another's musical tendencies to create passionate musical soundscapes, which range from traditional jazz to the progressive rock/classical-influenced music.  Hearing the trio is a special and unforgettable experience, and you will be captivated after listening to one piece.  Their TV appearance on the TV-show Vrije Geluiden led to sold-out concerts throughout The Netherlands, Belgium, and Germany on the first half of their European CD release tour.
The trio's electrifying chemistry and creative re-imagination of standards, progressive rock/pop, and diversely influenced music have thrilled audiences at Blue Note (New York), North Sea Jazz Festival, Pori Jazz Festival, Bimhuis (Amsterdam), Getxo Festival (Bilbao), Rockwood Music Hall (New York), Lofta (Vilnus) Tivoli (Utrecht, and Blue Frog (Mumbai).  and many other locales.
The Philippe Lemm Trio consists of Philippe Lemm – drums, Angelo Di Loreto – piano, and Jeff Koch – bass.
The trio's most recent CD, City Birds, won international praise for its lyrical jazz compositions and unique encompassing arrangements.  Currently in the works is a new CD, entitled First Steps, scheduled for release in March/April of 2021.
Currently in the works is a new CD, entitled First Steps, scheduled for release in March/April of 2021.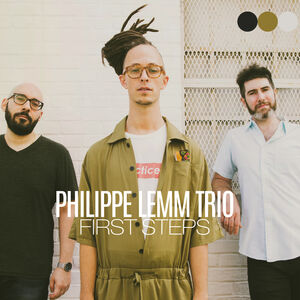 This special live-stream performance also represents a homecoming for WNY native Angelo Di Loreto who continues to impress internationally with commissioned work in compositions and arrangements.  Angelo was commissioned to arrange music for the Metropole Orkest, the Grammy-winning pops orchestra in the Netherlands.  Angelo was also a finalist in the 2012 Nottingham International Jazz Piano Competition in the United Kingdom and is a three-time ASCAP Herb Alpert Young Jazz Composer Award winner.
In 2013, Angelo and colleagues Philippe Lemm, Jeff Koch, Andrea Wood, Sean Richey, Pawan Benjamin, and Jelle Visser moved to Mumbai, India for four months where they were the inaugural faculty at The True School of Music, India's first-ever comprehensive music institute. There, they taught and performed in and around Mumbai and India including three double-billed performances with Renee Rosnes and her band at the JusJazz Festival in Delhi, Pune, and Mumbai. In addition, Angelo, Jeff, and Philippe had the opportunity to tour with star Bollywood singer, Shilpa Rao.
Live From Premier Cabaret Lounge live stream featuring The Philipp Lemm Trio is not to be missed!
"Stunning, beautiful, and magnificent music was performed at the 2017 Northwest Jazz Festival. An overwhelming audience favorite. The Philippe Lemm Trio are consummate musicians with intricate and exciting arrangements. One of the most refreshing jazz music to hit our festival in years!" Tony Zambito, Music Director Northwest Jazz Festival
"A highly engaging band with the ability to create an exciting mixture of its many influences." –
Mikkomatti Aro, Artistic Director Pori Jazz Festival, Finland
"Subtle, powerful, and wayward. Drummer Phillippe Lemm found his voice in New York and we want more of it!."– Radio 6
"From the first note till the last on the edge of your seat…….mesmerized by the trio"– Erik Raayman, Draai om je oren"
From Wayne Shorter to Jenny Arean… The Philippe Lemm Trio completely wins you over."-DrentWatchers
"This concert was a revelation" – Michiel van Ree, Artishock
Related Events