MCK Presents ft. Maciek Lasserre
Saturday, April 25, 2020 @ 2:00 pm

-

4:00 pm

$3

MCK Presents
Presented by ACT4Music Curator Dimitri Louis.
MCK Presences featuring Maciek Lasserre (Sax, Programming), Gaston AKA Bandimic (vocals), Maxime Zampieri (drums) and Deve Golitin (Gtrs).
I've had the chance to film Maciek Lasserre's MCK Projekt on a few times in the past and I've been really impressed by the mix of flavours this group offers. For this special occasion I thought it would be great to have each musician's give a take on MCK's music on a solo setting.
Each musician will play a few tunes from the MCK's albums and add some more personal compositions.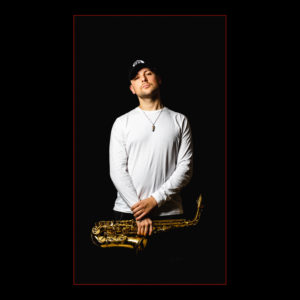 Maciek Lasserre
Saxophonist, composer, producer and teacher
www.mckprojekt.com
A musician with unique creativity, Maciek Lasserre emerged onto the Paris scene and internationally playing with contemporary jazz and experimental hip-hop projects.
Starting in 2001, he embarked on a serie of tours in Africa including to Senegal, Burkina Faso, Morocco, Tunisia, and across Europe.
In 2006, Maciek went to New York to study the music of Steve Coleman. He discovered the avant-garde New York scene with Steve Lehman, Vijay Iyer and Tyshawn Sorey.
Upon his return to Europe, Maciek intensified his work writing and developing the MCK PROJEKT ( Eskisse 2011, Forces 2015, Akt 2018) through which he formalized the key concepts of his musical, aesthetic and philosophical vision.
In 2015, he founded the group Sélébéyone ( Pi Recording ) with the saxophonist and composer Steve Lehman, the American lyricist HPrizm (Antipop Consortium) and the senegalese rapper Gaston aka Bandimic.
In 2020, he initiated the A.M.E Atelier de Musiques Exploratives (Exploratory Music Workshop) in collaboration with the Brazilian musician, activist and philosopher Fred Lyra.
He has performed with numerous artists including Magic Malik, Steve Lehman, Olivier Sens, Chander Sardjoe, Alain Vankenhove, Hervé Samb, Brice Wassy, Doudou Ndiaye Rose, Ablaye Mbaye, Thionne Seck, Latifa Arfaoui, Hamid Bouchnak, Gaston Bandimic, DaBrains, Disiz La Peste.
He has played in clubs in Paris, New York, Varsovie and Dakar as well as international festivals such as the Berlin Jazz festival, North Sea Jazz Festival, Ecstatic Music Festival New York, Paris Jazz Festival, Francofolies de la Rochelle, Festival Gnawa d'Essaouira, Festival de Fès des Musiques Sacrées du Monde.
Today, Maciek plays in many different groups, continues to teach and to develop Sélébéyone, the MCK Projekt and its ramifications MCK [S] SOLO and A.M.E Atelier de Musiques Exploratives (Explorative Music Workshop).
www.mckprojekt.com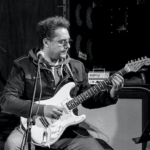 Deve Golitin
Deve Golitin is a non academic guitar player. Born in 1973 in Castres (France) ,his father is from French Guyana and his mother from French britanny. Deve's approach of playing the guitar is unique and new says drummer Stéphane Galland from the legendary belgian band AKA MOON. He has also created new ways of writing and creating compositions. Institutions (University, Jazz Schools) often ask him to teach and explain his views. Many talented musicians with him: Tomas Gubitsch; Stéphane Galland; Nelson Veras; Magic Malik; Paul Rogers; Seamus Blake; Linley Marthe; Dominique Di Piazza; Magic Malik; Marc Cary… Deve is very closed to Detroit scene where he lived severals months. He played with fantastic musicians in Detroit, even with the great saxophonist Larry Smith. Deve uses to say "I'm the french detroiter"! Deve's musical work is axed on the combination of analysis and intuition, philosophy and spirituality. A few words that give an idea of the simplexity of Deve Golitin's musical art'